What are the US Department of Agriculture requirements for USDA Loan?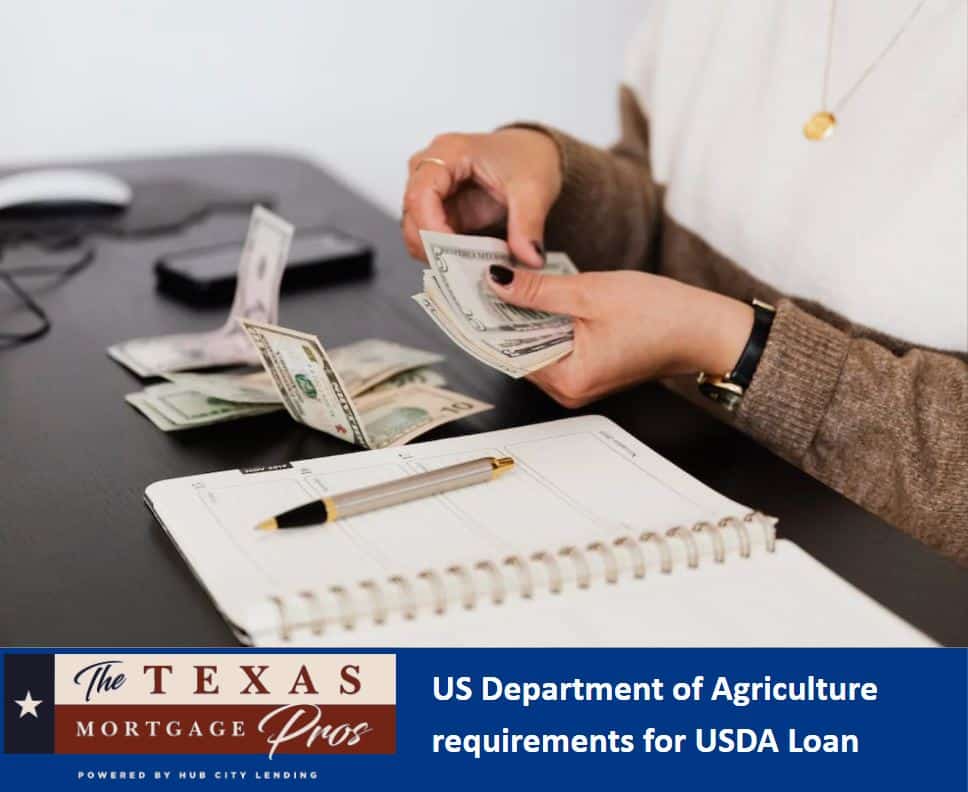 To be considered for a USDA construction loan or be eligible for a USDA loan to buy a home, a home buyer must meet specific USDA eligibility conditions. For instance, the house must be your primary residence and you must reside there.
Here are the US Department of Agriculture requirements for USDA Loans:
Income requirements: Consistent employment and monthly income as shown by tax returns
Credit Score: Minimum FICO credit score of 640 is required for credit (though this can vary by lender)
Existing debt ratio: In most cases, debt to income is 41% or below.
Residence: You must be a citizen, national, or permanent resident alien of the United States.
Location: Properties financed by USDA loans must be located in rural areas that qualify. By checking a loan eligibility map on the USDA website, you may determine whether a residence is qualified. You can use this interactive map to look up a certain property to check if it's in a region that the USDA has approved for this kind of government-backed funding.
Income: USDA loans are only available to families that can prove their financial need, therefore your adjusted gross income must exceed 115% of the area's median income. The same place where you can verify the eligibility of properties is where you can find out if your income qualifies. To access the USDA's eligibility site, simply click the same link and select "Income Eligibility" from the drop-down menu.
You must also demonstrate, using your assets, savings, and current income, that you have a steady income and can pay your mortgage on time for at least 12 months.
The US Department of Agriculture offers qualified rural homebuyers a USDA loan with $0 down payment. The United States Department of Agriculture oversees the USDA loan programme, often known as the USDA Rural Development Guaranteed Housing Loan Program.
The United States Department of Agriculture (USDA) is a federal body that develops guidelines and rules for the country's food security, forestry, ranching, and agricultural sectors. Among all of the federal government's programmes, the USDA's mortgage aid programme may be the least well-known.
When did the US Department of Agriculture create USDA loans?
In 1862, President Abraham Lincoln established the USDA, at a time when nearly half of all Americans worked on farms. The department presently comprises 29 departments with diverse responsibilities ranging from food safety inspections to rural economic development.
The current Secretary of Agriculture is Tom Vilsack. On February 23, 2021, he was confirmed by a 92-7 vote. 
Based on strong public policy, the best available science, and efficient management, the department provides leadership on food, agriculture, natural resources, rural development, nutrition, and related topics.
How does US Department of Agriculture regulate USDA loans?
The US Department of Agriculture is responsible for farming, ranching, nutrition, forestry, food safety, and rural mortgage lending, among other things.
Food Safety-

The USDA regulates the safety of meat, poultry, and egg products, as well as genetically modified organisms, through the Animal and Plant Health Inspection Service and the Food Safety and Inspection Service (GMOs).

Nutrition Programs-

Food assistance programs, such as the Supplemental Nutrition Assistance Program (SNAP), and the US food stamp program, are administered by the USDA's Food and Nutrition Service. The amount of money you make each month determines your eligibility. The federal agency also offers federally financed school lunches to qualified children and pays farmers subsidies and frequently purchases their surplus crops.

Health Education-

The Center for Nutrition Policy and Promotion aims to educate Americans about dietary choices and encourage them to engage in healthy physical exercise.

Natural Resource Management-

The USDA contributes to environmental preservation and sustainable industry in rural areas through the Forest Service and the National Resources Conservation Service. To achieve these objectives, it collaborates closely with the Department of the Interior and the Environmental Protection Agency (EPA).

Home loan program- To encourage rural development, the Rural Housing Service (RHS) offers Texas USDA home loan with low-interest rates to homebuyers in rural areas. When deciding on a loan size or potential refinancing, RHS takes into account borrowers' credit scores, down payments, and household income.
Benefits of a US Department of Agriculture
The United States Department of Agriculture (USDA) being a government department is responsible for rural development, particularly housing. 

It controls food quality and safety, as well as nutrition labeling, and oversees and administers initiatives relating to the farming, ranching, and forestry industries. 

Additionally, the USDA administers a number of social welfare programs, including free school lunches, food stamps, and women's and children's food assistance.
Branch Manager at The Texas Mortgage Pros
NMLS# 268552 – NMLS ID 286357
Branch NMLS #: 268552
118 Vintage Park Blvd W443,
Houston, TX 77070,
United States