Can Surviving Spouses Get Veteran Affair Loans?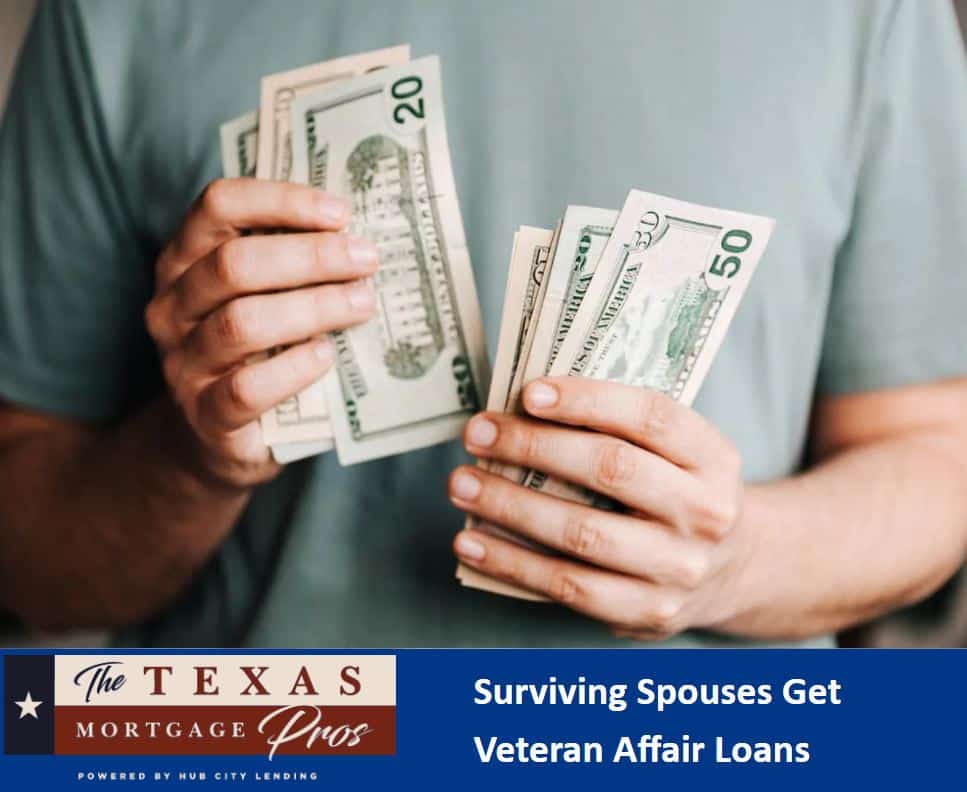 Yes, Surviving Spouses can get a Veteran Affair Loan. A Veterans Affairs Loan is a mortgage loan that can be obtained through the Department of Veterans Affairs (VA) of the United States (previously the Veterans Administration). Veterans, active-duty personnel, and the surviving spouses of these individuals can obtain VA loans to buy homes with little to no down payment, no private mortgage insurance, and typically competitive interest rates.
Active duty service members, veterans, and their surviving spouses can purchase homes with the aid of VA financing. On the value of a home, they offer financing of up to 100%. Borrowers who meet the requirements can utilize a VA loan to restructure their mortgage, remodel and repair their homes, or create a new one. 
The VA establishes the VA Loan Limits, requirements for eligibility, determines the conditions of the available mortgages, and backs the loan but does not actually provide the funding. Instead, private lenders like banks and mortgage firms offer VA house loans.
At the 170 VA medical facilities and outpatient clinics spread across the nation, the United States Department of Veterans Affairs (VA), an executive branch department at the Cabinet-level, is responsible for providing eligible military veterans with lifelong healthcare services. Disability benefits, vocational rehabilitation, financial aid for school, house loans, and life insurance are examples of non-healthcare benefits. At 135 national cemeteries, the VA also offers burial and memorial benefits to qualified soldiers and their families.
How Does The Veteran Affairs Support Surviving Spouses?
Benefits programs for veterans, their families, and Surviving Spouses are administered by the VA. Pensions, schooling, disability payments, Veteran affairs loan in Texas, life insurance, vocational rehabilitation, survivor support, health care, and burial benefits are among these benefits.
Nearly three out of every four of the 25 million veterans who are still alive today served during a war or a recognized time of hostility. Due to their status as veterans, family members, or survivors of veterans, almost 70 million persons in the country could be eligible for V.A. benefits and services.
What Are The Benefits Of The Veteran Affairs for Surviving Spouses?
Of all the countries in the world, the United States offers the most complete system of aid for veterans. Active-duty military personnel, veterans, and their families can access a wide range of services through the Department of Veterans Affairs health care system. You accomplished your obligation; the government is now in the driver's seat. The benefits include:
If you or a veteran you care about is experiencing a crisis, compassionate, trained VA professionals are available to offer free, private support.
The VA will provide qualifying veterans with monthly compensation for disability brought on by Post-Traumatic Stress Disorder, much as it does for other service-connected illnesses and injuries (PTSD).
If you are at least 10% disabled as a result of your military service, VA may be able to provide you with monthly compensation. Additionally, if you are a war veteran with limited income, permanently and fully disabled, or at least 65 years old, you may be eligible for a monthly pension.
To qualified veterans, some members of the armed forces, and some surviving spouses, VA offers a variety of home loan services.
GI Bill Educational Benefits
When qualified veterans, reservists, and active-duty service personnel are enrolled in an authorized educational or training program, VA provides benefits to them.
What are the Compensations for VA Surviving Spouses?
Here are Compensations for VA Surviving Spouses:
Veterans Compensation Benefits
Total Disability Based On Individual Unemployability (TDIU)
Monthly Disability Benefits
VA Pension Benefits
Branch Manager at The Texas Mortgage Pros
NMLS# 268552 – NMLS ID 286357
Branch NMLS #: 268552
118 Vintage Park Blvd W443,
Houston, TX 77070,
United States