What is a USDA Loan in Texas?
A Texas USDA Loan is a home loan insured by the United States Department of Agriculture. The United States Department of Agriculture, under the Executive Department, provides leadership on food, agriculture, natural resources, rural development, and nutrition. According to The United State Department of Agriculture (USDA), residential home loan programs in Texas offer low-income families and moderate-income individuals living in small towns or rural areas to achieve homeownership. Texas USDA Loan also referred to as a USDA Rural Development Loan, this type of loan can offer up to 100% financing for qualified buyers in Texas.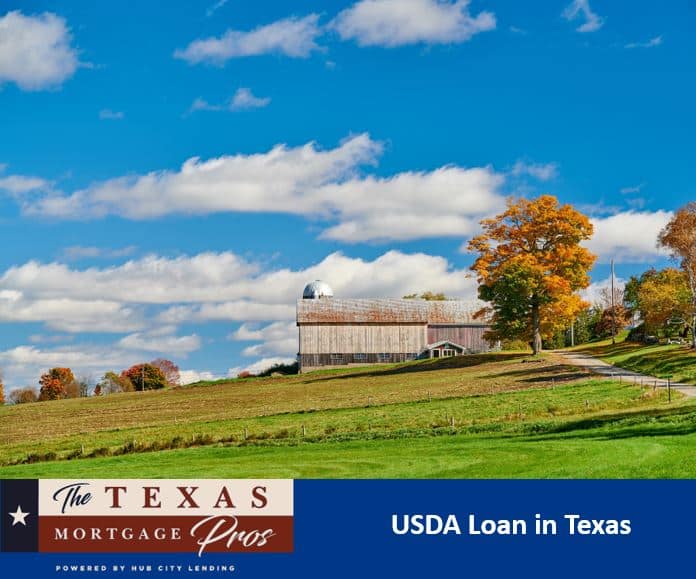 USDA Loan Requirements
The Texas USDA Loan requirements for 2022, according to The United States Department of Agriculture, are:
Applicants must agree to use the dwelling in question as an owner-occupied property. That means they must live in the property as their primary place of residence.
Applicants must also have the legal capacity to personally incur the obligation of the loan. This starts with being a United States citizen, a registered non-citizen national, or a legally qualified alien. It also means that they haven't been debarred or suspended from participating in federal programs.
Applicants must also demonstrate sufficient willingness to keep up with the credit obligations, such as mortgage payments, in a prompt and timely manner. They must also buy a property that also meets all of the criteria of the program.
Types of USDA Loans
Here are the two types of USDA Loans in Texas:
USDA Direct Loan
USDA Direct Loan in Texas is reserved for borrowers whose household income does not exceed 80% of the Area Median Income (AMI). As the name implies, a borrower must apply directly to the USDA Regional Office that serves the area they are looking to purchase the property. If a borrower wishes to build, renovate, or include the cost of the improvement to the loan, they must opt for the Direct program.
USDA Guaranteed Loan
Guaranteed USDA loan in Texas is for borrowers who make more than 80% of the AMI but not exceed 115% of the said Area Median Income. USDA Guaranteed Home Loans are offered by USDA-approved lenders and are guaranteed by the Department of Agriculture. The subject property must meet certain requirements in order to qualify. For starters, the property must be for primary residence use only and cannot be income-generating in any manner.
Texas USDA loans have nothing to do with agriculture and are not intended for farmers; instead, their purpose is to help build many of the nation's smaller communities.
Income Limits for USDA Loans
The 2022 income limits for USDA Loans in Texas change based on your income and the county in which the property resides.
Here are the average USDA Income Limits in Texas for 2022:
Low Income with 1-4 people is, on average, $47,000
Low Income with 5-8 people is, on average, $62,000
Mod Insurance Guarantee Loan with 1-4 people is, on average, $90,000
Mod Insurance Guarantee Loan with 5-8 people is, on average, $119,000
Funds that are backed by loan guarantees are generally available for several different potential uses.
The first is buying an existing or even new residential property that will get used as a primary or permanent residence. Closing costs might get included in the transaction, as can any expenses considered customary or reasonable. These might include connection fees that buyers are liable for, including water, electricity, sewer, and gas.
These funds can also get used to refinance eligible loans or even conduct rehabilitation and repairs that are related to buying a currently existing dwelling.
In select cases, the funds can be applied towards permanently installed equipment or special design features that would better accommodate someone in the household that is afflicted by a physical disability.
Funds can also be used for a pro-rata share of any real estate taxes that are due and/or payable at loan closing time. Funds can even be used to establish escrow accounts for later taxes, and even flood or hazard insurance programs, as well as essential household equipment. This could include HVAC equipment, laundry machines, kitchen appliances, and wall-to-wall carpeting. It's also possible to buy and then install any measures that might increase the energy efficiency of the home, such as solar panels, double-paned glass, and insulation.
Funds might even be used to install fixed broadband service, as well as site-prep costs like driveways, fences, walks, trees, sod or seeding, foundation plantings, and grading.
USDA Loans Calculations
Texas USDA Loans are calculated based on projected income computed by the lenders for the upcoming 12 months. The maximum loan amount computation is done based on all the available historical data, and it includes the current pay stubs as well as W2s. However, the USDA has set its income limit, and it is determined before deductions are made from the payroll. Gross income is basically a representation of any bonuses, salary, tips, commission, overtime, and even service compensation; it can also include living allowances cost or even the housing allowance received.
If you reside within a household where a member is a farmer or they own a small business, there is now the application of net income of operations. Additionally, lenders also have their own specific guidelines which revolve around employment and income.
All loans are subject to underwriting or investor approval. Other restrictions may apply. This is not an offer of credit or a commitment to lend. Guidelines and products are subject to change.
i
Approval Process for USDA loan
The USDA Loan Approval Process for a USDA loan in Texas starts with contacting an Approved USDA Loan Private Lender. Approved USDA Loan Private Lenders are supported by the United States Department of Agriculture but don't actually offer you the home loan themselves.
Advantages of a USDA loan
The Advantage of a Texas USDA Loan is getting locked into a 30-year mortgage with a low fixed interest rate and potentially no down payment requirement. If you don't have a down payment, you will have to pay a premium for mortgage insurance to mitigate the lender's risk.
USDA loan pros and cons
The Texas USDA Loan Pros are below:
For starters, it is 100-percent financing, if you want. That means you can choose to use a no-down-payment option.
Secondly, no cash reserves are necessary. This helps you buy a home faster without having a lot of money saved up in the bank.
The credit and qualifying guidelines are flexible, which also makes it easier to qualify for financing, even if your credit history, report, and scores are as ideal as they would need be for conventional or commercial financing.
Another perk of this program is that it can be set up so that the seller pays the closing costs. The lack of prepayment penalties and low fixed interest rates are two more features that save you money. You can even use this loan to finance closing costs and repairs right into the loan.
The overall flexibility of the program is so versatile that you can use this option for building a home, purchasing a home, or even just refinancing one. The program helps Agricultural Producers with Operating Loans to help fund Farming Operations. These Operating Loans lend assistance for farmers to access quality markets.
The Texas USDA Loan Cons are below:
For starters, there are geographic restrictions. While many Texans are eligible for the program, it is oriented more toward rural and suburban homes, so those living in highly urban areas might not qualify. Fortunately, there are online resources where you can simply plug in the street address of any residential property to determine likely eligibility.
Secondly, there are income limits. If you or your household makes too much money in excess of the program caps, you might not qualify for assistance or benefits.
Third, mortgage insurance is usually included in the loan. At the same time, it's good to have that coverage, and honestly essential to start with. However, forced inclusion into the loan might prevent you from shopping around for your own insurance carrier of choice.
Fourth and finally, this loan and program don't qualify for duplex homes. Applicable residences can only be single-family units. Also, they must be owner-occupied, so you can't use these benefits for flips, rentals, or vacation homes.
USDA approved lenders in Texas
The USDA-approved lenders in Texas are the Texas Mortgage Pros. Contact us today to help you get your loan approved and start your path to financial success.
USDA loan financing in Texas
The USDA loan financing in Texas qualification is that the property you would like to purchase cannot be located within a big city's limits. It can, however, be located outside of a city's limits. Also, the population of the area must be less than 20,000 people. Some counties in Texas qualifies for USDA loan as a whole. Not too many lenders out there offer USDA financing. The Texas Mortgage Pros is one of the few Texas lenders that offer USDA loan programs and financing.
A borrower must meet the three basic requirements to qualify for USDA financing: (a) credit, (b) monthly income, and (c) asset, respectively. For additional information about the restrictions and eligibility requirements, contact our USDA Home Loan Specialists at (877) 280-4833 to get started.
Rural Housing Service in Texas
The Rural Housing Service (RHS) helps to qualify applicants in rural communities who cannot receive credit from other sources to purchase modestly priced homes as their primary residence. The Texas Mortgage Pros is one of the approved USDA Lenders in Texas. We are a USDA Guarantee Lender in the area that can provide any information you need to secure a USDA loan. RHS loans can be used toward the purchase and renovation of a previously owned home or new construction. Families must be able to pay their monthly mortgage, homeowner's insurance, and property taxes.
USDA Loan Maps
Below is a map of the USDA Rural Development Offices Map. The USDA Rural Development offices will have the local information on approved zones. Most rural communities and towns are eligible, as are the spaces in between them, so you might be able to finance a home outside of San Antonio with this program, but not in the city itself. Likewise, the inner areas of metro areas like Houston or Dallas won't count, but being a half-hour or more outside the city might.