Who can apply for a Section 502 Loan?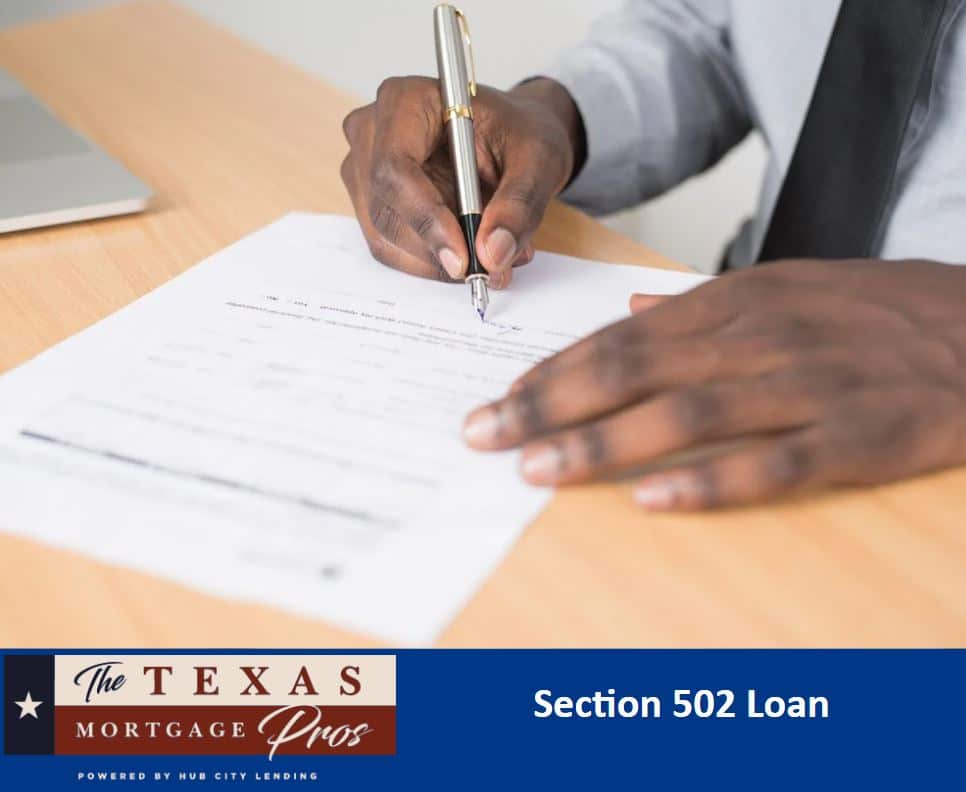 The following criteria must be met to apply for a Section 502 Loan:
Borrowers must be without access to decent, safe, and sanitary housing
Borrowers must fall within the appropriate low-income limit for the region
Borrowers must be unable to borrow money from other sources on terms and conditions that can be reasonably expected to be met
Borrowers must agree to use the property as their primary residence; they must be of legal age to enter into a loan agreemen
Borrowers

must be citizens or be eligible noncitizens.

Borrowers

must not be prevented or suspended from taking part in governmental initiatives
What are the property requirements for a Section 502 Loan?
The following requirements must be met for properties funded using direct loan funds:
Be modest in size for the area
Have a market value below the applicable area loan limit
Not be intended for income-producing activities.
When the title to the property transfers or the borrower no longer resides in the home, the borrower must repay all or a portion of the payment subsidies they have received over the loan's term.
To qualify for a direct loan, applicants must have sufficient income. For further information, you can also get in touch with your nearby Rural Development office a map is accessible at this website: https://www.rd.usda.gov/browse-state
Section 502 is a USDA Guaranteed Loan Program that aids licensed lenders in providing adequate, modest, decent, safe, and hygienic houses as their principal residence in designated rural areas to low- and moderate-income people.
The section 502 loan is also known as Single-Family Housing Direct Home Loans. It is covered under the US Department of Agriculture Loans. Let's see what this section 502 loans are all about, its pros, and a lot more.
Section 502 loan is used so that Low and Very Low-Income Families Can Get Subsidized Mortgages.
Purpose- To offer low- and very-low-income people affordable housing.
Eligibility- Households have sufficient income to cover mortgage payments, insurance premiums, taxes, and other basic living expenses. People who are unable to repay the debt on their own may be able to get co-signers. Obtaining a loan from a private lender on terms and conditions that they may reasonably be expected to meet is impossible.
Current Interest Rate- The current interest rate is 3.25 percent, with a term of 33 years (subject to change without notice).

How does a Section 502 Loan Work?
The USDA provides money directly to homebuyers through its Single-Family Housing Direct Home Loans program (also known as Section 502 direct loans). Some persons who take out USDA direct loans are eligible for payment assistance, which reduces their monthly payments for a limited time.
If you qualify, you can use these loans to purchase an existing property and, if necessary, restore it. You might also utilize the funds to construct a new home.
Unless your assets exceed a specific threshold, you are not required to submit a down payment. Another advantage is that you will not be required to pay for mortgage insurance.
The interest rate on the loans is fixed and determined by market rates. If you are eligible for payment assistance, your effective rate might be as low as 1%. The average loan length is 33 years, however, borrowers with extremely low income may have up to 38 years to repay the debt.
Your income, assets, debt-to-income ratio, and other financial factors determine the loan amount, but it cannot exceed a Texas USDA home loan limit for the area. This form of loan also cannot be used to purchase or construct a home that is abnormally large or valuable for its location, includes an in-ground swimming pool, or is built to function as the location of a business or produce income.
What are the Types of a Section 502 Loan?
Depending on the type of loan being provided, the laws regulating Section 502 loan origination vary slightly. The following are examples of Section 502 loans:
Initial Loan-

When neither the applicant nor the seller has a previous Agency loan, an initial loan is made. Generally, they are made for the maximum loan term for which the applicant qualifies, and at a very cheap or low-interest rate under Rural Housing (RH) 502.

Assumed Loan-

It is possible to assume Section 502 loans. The terms and conditions of the assumption are contingent on the new purchaser's eligibility.

Subsequent Loan-

Subsequent loans can be granted as part of a property's initial purchase, in conjunction with an assumption, or throughout the duration of an Agency loan to assist an existing borrower with property repairs or renovations.

Nonprogram Loan-

Nonprogram loans are loans provided on non-program terms to non-program-eligible borrowers and/or for properties that do not satisfy Agency criteria and will not be brought up to Agency standards using loan money. 
Pros and Cons of a Section 502 Loan
Pros
Option for no down payment (100 percent financing)

There are no monetary reserves required.

Flexible credit and qualification criteria

The seller may cover closing costs.

Low fixed rate of interest

Payment in advance is not subject to a penalty.

Repairs and closing fees can be factored into the loan.

Buying or refinancing a home is a good idea right now.

With the loan, you can construct a home.
Cons
Geographical limitations

Insurance for the mortgage is included (may be financed into the loan)

Limits on income

Only single-family, owner-occupied dwellings are permitted; no duplexes are permitted.
Branch Manager at The Texas Mortgage Pros
NMLS# 268552 – NMLS ID 286357
Branch NMLS #: 268552
118 Vintage Park Blvd W443,
Houston, TX 77070,
United States